Meet the Team
Dr. Michael Burghardt
Dentist
Email: drb@smilestudio.ca
Phone: (250) 492-2608
Originally from Edmonton, Michael William Burghardt attended the University of Alberta, where he earned a Bachelor of Science (BSc) in 1997 and a Doctor of Dental Surgery (DDS, General Dentistry) in 1999.
Dr. Burghardt owns and operates Dr. Michael W. Burghardt Inc. – The Smile Enhancement Studio.
Dr. Burghardt is a member of the International Association of Physiologic Aesthetics (IAPA), the College of Dental Surgeons of British Columbia, the Association of Dental Surgeons of British Columbia (ADSBC), and the Canadian Dental Association (CDA).
Dr. Burghardt, having completed the core restorative program at the world's premiere cosmetic dental training institute, LVI Global, has earned this distinction enabling him to offer his patients advanced cosmetic and reconstructive dentistry. To this end, he has taken Post-Graduate training in Orthodontics, Conscious Sedation, Zoom Whitening, Smile Design, Smile Reconstruction, Comprehensive Esthetic Reconstruction, Full Mouth Reconstruction, Neuromuscular Dentistry, K7 Sonography, EMG and Jaw Tracking, CEREC 3D Dentistry, Laser Dentistry, Lumineers, Implant Restorative Dentistry, Implant Surgery, advanced bone grafting, All on 4 Implant Surgical Solutions, Mucogingival Grafting, The Physiologic Approach to the Treatment of Obstructive Sleep Apnea and computer guided implant surgery.
Dr. Burghardt's goal is to provide the best quality dentistry and service, using the best technology available, and to enjoy doing it. He wants his dentistry to have a long lasting positive impact on his patients health, social life and self esteem.
An avid outdoors and family man, Dr. Burghardt and his wife Carolyn enjoy hiking, walking their dog "Goliath", biking and spending time at the beach or the playground with their four children – Samuel (born in 2002), Emma (born in 2006), Mya (born in 2006) and Ava (born in 2009). Other favourite hobbies include camping, wakeboarding, golfing, boating, fishing, snow boarding, down hill skiing and volleyball. Dr. Burghardt is a Christian who desires to grow spiritually, socially, personally and professionally.
Sarah
Receptionist
Email: sarah@smilestudio.ca
Sarah is a receptionist like no other. She has been part of the team since 2001. She goes above and beyond routinely and always has a smile. Sarah has a beautiful daughter and a husband that keep her busy. She enjoys scrap booking, family time, traveling  and reading.
Ashley
New Patient Coordinator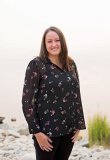 I have lived in Penticton since I was a young child. It is a great place to live and I am now raising my own family here. I have been a patient at The Smile Enhancement Studio for many years and didn't hesitate in accepting the position as their patient coordinator when it was offered to me. I have always trusted Dr. Burghardt with my own dental work as well as that of my family's. I really enjoy working with the amazingly hardworking team here at The Smile Enhancement Studio. Welcoming new patients to the office is one of my favorite parts of my job. I enjoy spending time with my family and friends as well as travelling.
Catherine
Treatment Coordinator & CDA
Email: catherine@smilestudio.ca
Catherine is Dr. Burghardt's right hand. She has almost 30 years experience. Her knowledge and expertise in helping to create beautiful and healthy smiles is invaluable.
Catherine's quick wit and competency makes working with her a pleasure. In her spare time she enjoys running, scrap booking and camping with her family.
Joey
Johanna(RDH) has worked full time with the Smile Enhancement Studio since September of 2018. We have been lucky to have known her for much longer as she did two of her earlier practicums in our office. She grew up in Penticton but spent several years travelling…including Austraila where she was lovingly given her nickname Joey:) She enjoys hanging out with her dogs,working out and spending quality time with her beau and family and friends.
Amanda
CDA
Email: amanda@smilestudio.ca
Amanda (CDA) grew up in Summerland and after graduation moved to Alberta for 14 years. In 2013 Amanda welcomed her first son, Jacob. In 2016 Amanda made the decision to move back to the Okanagan and couldn't be happier to be surrounded by family and close friends again!
Amanda has known she wanted to be a dental assistant since she was quite young, following in her aunt's footsteps. In 2011 she graduated Dental assisting in Edmonton through N.A.I.T and she has relished every moment since.
Amanda takes delight spending time with her family and friends and rediscovering all the beautiful wineries, beaches, restaurants and all the fun stuff Penticton has to offer.
She thoroughly enjoys working and cleaning kid's teeth and making their first experience a positive exciting and fun time! Amanda adores working for the Smile Enhancement studio and feels like they are a part of her family.
Morgan
Hygenist
My name is Morgan. I have been a registered dental hygienist since 2003. My family and I have been enjoying the beautiful Okanagan on summer vacations for several years. We were thrilled when the opportunity came for us to work and live here. I'm excited to be a part the community in Penticton and look forward to meeting my new clients.
Amanda
Hi, I'm Amanda, but everyone calls me Viks! I'm one of the behind the scenes characters at the Smile Enhancement Studio, helping mainly with sterilization and day-to-day tasks around the office.
I love being a part of this amazing team and helping out wherever I can, and I'm looking forward to growing my skillset in the office and learning new things. When I'm not at work, I'm spending time with my two young kids and my husband. I love anything to do with mountains, fitness, or extreme challenges. I'm always bribing my kids to hike for snacks, going on adventurous multiday hikes with friends, or carving down the mountain on my snowboard.